Time in Palembang
visitor :

A B C D E F G H I J K L M N O P Q R S T U V W X Y Z All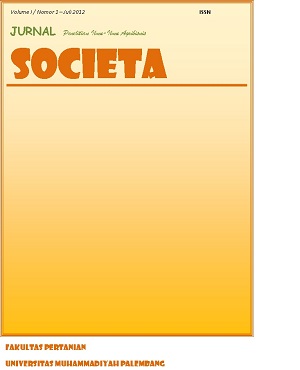 Societa: Jurnal Ilmu-Ilmu Agribisnis
Societa is the journal that published by Agricultural Faculty of Muhammadiyah  University of Palembang, since 2016. This journal reguraly publish every June and December with registrated number ISSN 2301-4180 (print) and ISSN 2549-8509 (online).
P-ISSN 2301-4180
E-ISSN 2549-8509
View Journal | Current Issue | Register
Syifa' MEDIKA
Jurnal Syifa' MEDIKA Fakultas Kedokteran Universitas Muhammadiyah Palembang adalah publikasi 6 bulanan yang menggunakan sistem peer - review untuk seleksi makalah. Syifa' MEDIKAÂ  menerima artikel penelitian original yang relevan dengan bidang; Kedokteran, Ilmu Kedokteran Dasar dan Kesehatan.Syifa' MEDIKAÂ  juga menerima; Tinjauan Pustaka, Laporan Kasus dan Penyegar Ilmu Kedokteran.
ISSN: 2087-2335
View Journal | Current Issue | Register
Sylva
Diterbitkan oleh Program Studi Kehutanan Fakultas Pertanian Universitas Muhammadiyah Palembang terbit 2 kali dalam setahun yaitu pada bulan Juli dan Desember, dan terdiri dari 8 artikel disetiap edisinya.