A B C D E F G H I J K L M N O P Q R S T U V W X Y Z All
MESINA (Medical Scientific Journal)
Medical Scientific Journal
A journal that is organised by medical students of Faculty of Medicine Universitas Muhammadiyah Palembang.
View Journal | Current Issue | Register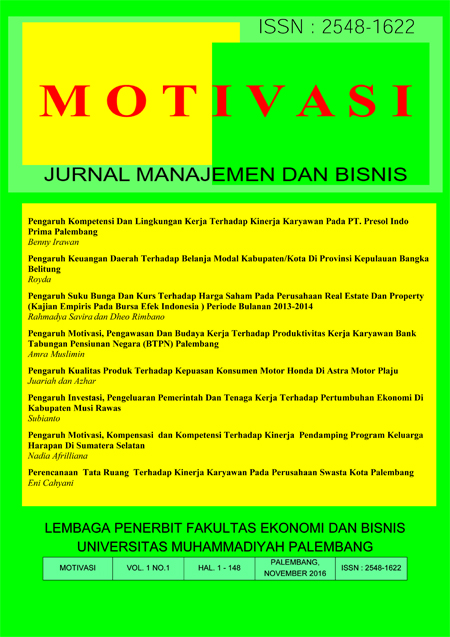 MOTIVASI: Jurnal Manajemen dan Bisnis
Motivasi: Jurnal Manajemen dan Bisnis is  journal that publishes scientific articles in the fields of management and business sciences covering the fields of financial management, human resource management, marketing management, operational management and management information systems that are managed and published by the Management Study Program of the Faculty of Economics and Business of Muhammadiyah University of Palembang. Articles published in the Motivasi: Jurnal Manajemen dan Bisnis include original scientific research results and new scientific review articles from various academics and researchers that have not been published elsewhere. The publishing period is twice a year, namely in June and November.
View Journal | Current Issue | Register

MUQTASHID
Jurnal Muqtashid adalah jurnal ilmiah yang diterbitkan oleh Program Ekonomi Syari'ah Fakultas Agama Islam Universitas Muhammadiyah Palembang. Muqtashid mengkaji dan mempublikasikan artikel konseptual, hasil penelitian, dan tinjauan buku dalam bidang Ekonomi Syari'ah. Jurnal Muqtashid terbit dua kali dalam setahun yaitu bulan Maret dan September. Jurnal Muqtashid pertama kali terbit pada tahun 2016 dengan Surat Keputurusan Dekan Fakultas Agama Islam Universitas Muhamamdiyah Palembang. Pengelola menyambut baik kontribusi dalam bentuk artikel dari para ilmuwan, sarjana, professional, dan peneliti dalam disiplin Ilmu Ekonomi Syari'ah untuk dipublikasikan dan disebarluaskan setelah melalui mekanisme seleksi naskah, telaah mitra bebestari, dan proses penyuntingan. Besar harapan kami, artikel-artikel yang terbitkan oleh Jurnal Muqtashid dapat memberikan kontribusi yang nyata dan berdampak secara luas pada perubahan paradigma positif mengenai Ekonomi Syari'ah. Jurnal Muqtashid melakukan publikasi karya ilmiah berpegang teguh pada nilai-nilai dan etika publikasi ilmiah serta seluruh proses didalamnya dikelola secara profesional dan akuntabel. Jurnal Muqtashid berkomitmen akan memberikan sanksi secara tegas apabila selama proses publikasi terdapat hal-hal yang menyalahi aturan dalam etika publikasi serta norma-norma akademik.
 
ISSN: 2407-3643