A B C D E F G H I J K L M N O P Q R S T U V W X Y Z All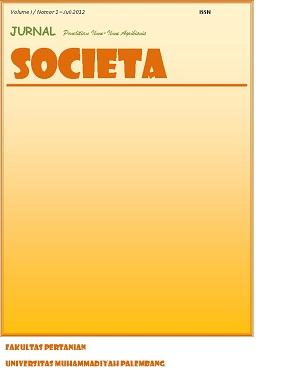 Societa: Jurnal Ilmu-Ilmu Agribisnis
Societa is journal that concern in agribusniess sciences which includes: Marketing of agricultural products, Analyze of Farming Income, Comparison of production and income farming, Agricultural Policy, competitiveness of agricultural products, development of rural area and other agribusiness science.
Societa is the journal that published by Agricultural Faculty of Muhammadiyah  University of Palembang, since 2016. This journal reguraly publish every June and December with registrated number ISSN 2301-4180 (print) and ISSN 2549-8509 (online).
P-ISSN 2301-4180
E-ISSN 2549-8509
View Journal | Current Issue | Register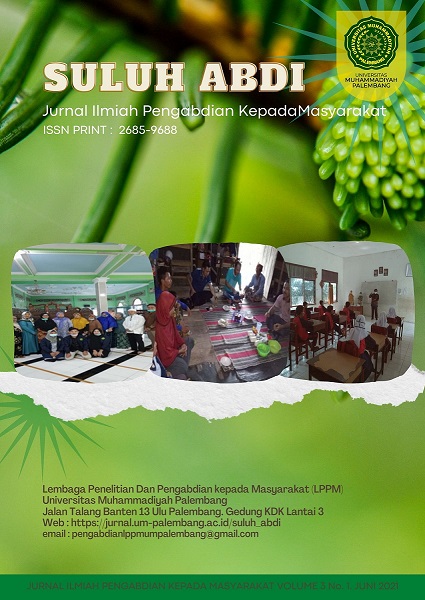 Suluh Abdi
Jurnal SULUH ABDI merupakan jurnal ilmiah yang menyajikan hasil karya ilmiah yang bersumber dari Pengabdian kepada Masyarakat di Indonesia. Terbit pertama pada Juni 2019.
Jurnal SULUH ABDI dimaksudkan sebagai media kajian ilmiah hasil pengabdian dari implementasi kepada Masyarakat, pemikiran dan kajian analisis-kritis mengenai berbagai isu yang dapat dimanfaatkan baik secara nasional maupun internasional dari ruang lingkup semua bidang ilmu. 
Artikel ilmiah dimaksud berupa kajian implementasi dari Pengabdian kepada Masyarakat yang dapat dipertanggungjawabkan serta disebarluaskan secara nasional maupun internasional.
Jurnal SULUH ABDI sebagai bagian dari semangat menyebarluaskan ilmu pengetahuan hasil dari pengabdian pada Masyarakat yang dilakukan oleh Pengabdi di Indonesia.
Jurnal SULUH ABDI menyediakan artikel-artikel yang dapat diunduh secara gratis. Dengan jadwal terbit 2 (dua) kali setahun, yaitu Juni dan Desember.
View Journal | Current Issue | Register
Surya Edukasi: Jurnal Pengabdian Masyarakat
Surya Edukasi: Jurnal Pengabdian Masyarakat, diterbitkan oleh Fakultas Keguruan & Ilmu Pendidikan Universitas Muhammadiyah Palembang. Surya Edukasi: Jurnal Pengabdian Masyarakat berisi hasil-hasil kegiatan pengabdian kepada masyarakat berupa penerapan bidang ilmu pendidikan. Diterbitkan 2 kali dalam satu tahun.
View Journal | Current Issue | Register
Syifa' MEDIKA: Jurnal Kedokteran dan Kesehatan
Syifa" MEDIKA published by Faculty of Medicine, University of Muhammadiyah Palembang in collaboration with Asosiasi Pendidikan Kedokteran dan Kesehatan Muhammadiyah (APKKM).
Syifa" MEDIKA is a national peer-reviewed and open access journal that published two times a year: September and March.
We accept original article, case report, and literature review from all area of medicine, biomedicine, and public health fields.
The average time during which the preliminary assessment of manuscripts is conducted: 7 days.
The average time during which the reviews of manuscripts are conducted: 14 days
The average time in which the article is published: 90 days
View Journal | Current Issue | Register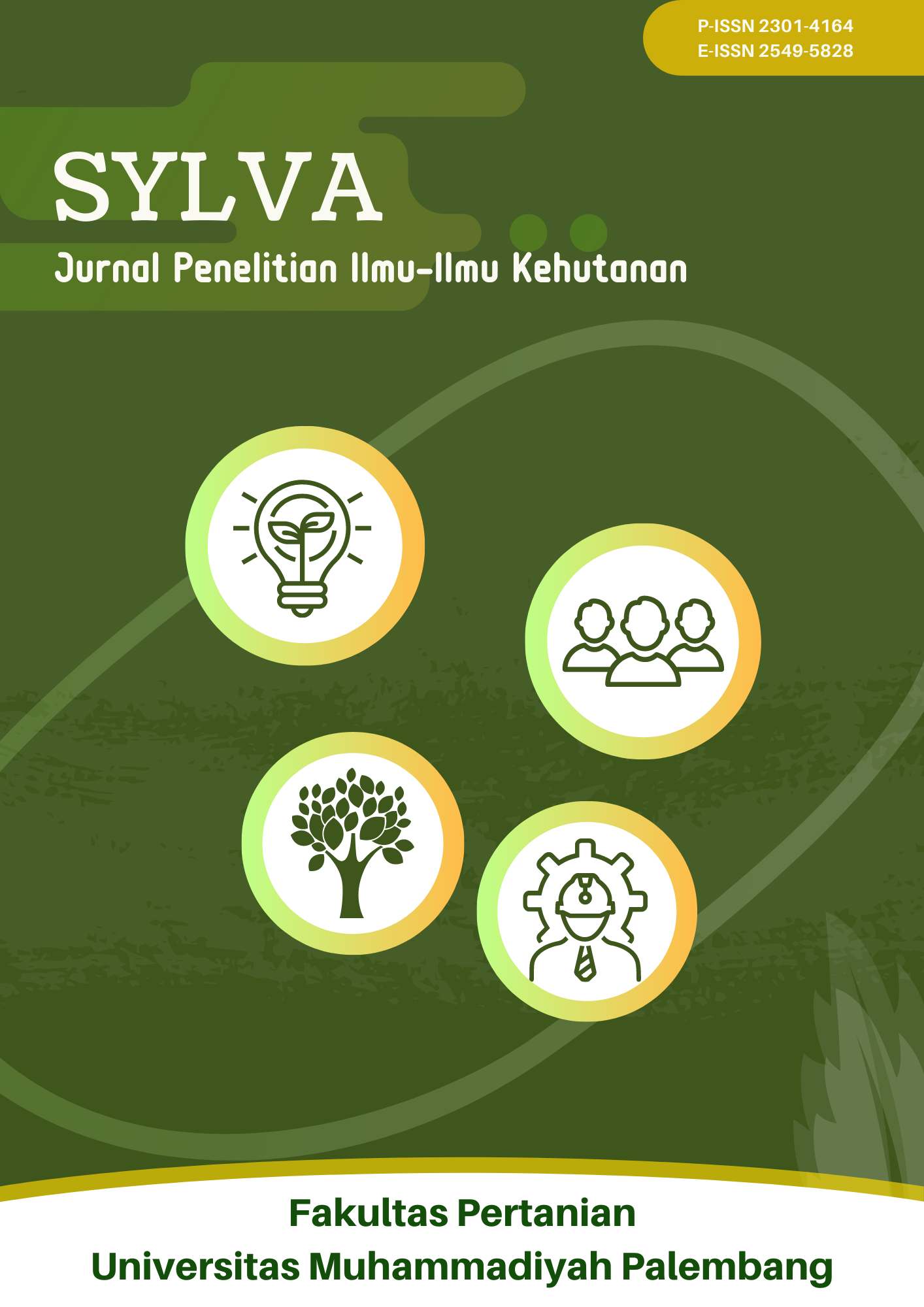 Sylva : Jurnal Penelitian Ilmu-Ilmu Kehutanan
Sylva: Jurnal Ilmu-ilmu Kehutanan [P-ISSN 2301-4164 | E-ISSN 2549-5828] publishes original research articles on all aspects of forestry and environmental sciences, including, but not limited to, the following subjects: forest and natural resource management, biodiversity conservation and management, wood science and timber technology, agroforestry and social forestry, and forest products and forestry. It serves as a primary platform for the dissemination of both theoretical and experimental research, as well as technical reviews. This journal publishes one volume per year, consisting of two issues in July and December. This journal published by the Faculty of Agriculture, Muhammadiyah University of Palembang.