P-ISSN: 2774-6607; E-ISSN: 2774-4308
Altifani Journal: International Journal of Community Engagement is an international, multidisciplinary, scholarly, peer-reviewed, and open-access journal that publishes articles on the outcomes of activities and/or community engagement. Managed and published by the Faculty of Agriculture, Muhammadiyah University of Palembang. Altifani Journal releases two issues each year, in July and December. Covers all fields of science regarding scientific applications, social and/or lectures delivered to the public. The fields of science in question are general scientific (environmental, cultural, economic, agricultural, forestry, aquaculture, social, math, physics, chemistry, biology, culture, economics, religion, and medical health and engineering), training and education output enhancement, and development of technology information and communication.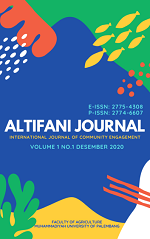 Announcements
No announcements have been published.
Vol 2, No 1 (2021)
Table of Contents
Articles
| | | |
| --- | --- | --- |
| | Nico Syahputra Sebayang, Iin Nopitasari, Pestaria Saragih, Alhanannasir Alhanannasir | 1-5 |
| | | |
| --- | --- | --- |
| | Reflis Reflis, Satria Putra Utama, Nur Hayati | 6-12 |
| | | |
| --- | --- | --- |
| | Syariani Tambunan, Nico Syahputra Sebayang, Desi Sri Pasca Sari | 13-17 |
| | | |
| --- | --- | --- |
| | Neni Marlina, Asmawati Asmawati, Dewi Meidelima, Rastuti Kalasari, Haperidah Nunilahwati, Marlina Marlina, Joni Philep Rompas, Iin Siti Aminah, Rosmiah Rosmiah | 18-25 |
| | | |
| --- | --- | --- |
| | Yani Purwanti, Haperidah Nunilahwati, Laili Nisfuriah, Fitri Yetty Zairani | 26-34 |
| | | |
| --- | --- | --- |
| | Elly Jumiati, Mardhiana Mardhiana | 35-40 |
| | | |
| --- | --- | --- |
| | Akram Pratama, Dinda Fitria, M. Ilham, Puput Puput, Zubaidah Zubaidah, Delimawati Delimawati, Tri Fatri, Sukaria D. | 41-45 |
| | | |
| --- | --- | --- |
| | Rafeah Abubakar, Harniatun Iswarini, Puri Pratami | 53-56 |
| | | |
| --- | --- | --- |
| | Nurbaiti Amir, Ika Paridawati, Syafrullah Syafrullah, Sisvaberti Afriyatna, Yuli Rosianty | 57-61 |
| | | |
| --- | --- | --- |
| | Erni Hawayanti, Iin Siti Aminah, Nico Syahputra, Yopie Moulyohadi, Dessy Tri Astuti | 62-67 |