Arsir: Jurnal Arsitektur is an accredited journal by Indonesia Ministry of research with grade 5 (Sinta 5). This journal contains scientific articles of research results, conceptual papers, case study reports. It registered with p-ISSN: 2580-1155 and e-ISSN: 2614-4034. The first edition, Volume 1 Number 1 June 2017, was published in 2017. The journal publication was maintained by the Architecture Department at Muhammadiyah University of Palembang, Palembang, South Sumatra.  All Articles manuscripts are published after a thorough peer-review process. The contents of Arsir are as follows:
Architectural Design
Theory and History of Architecture
Housing and Settlement
Urban Design and Planning
Building Technology
Computation Architecture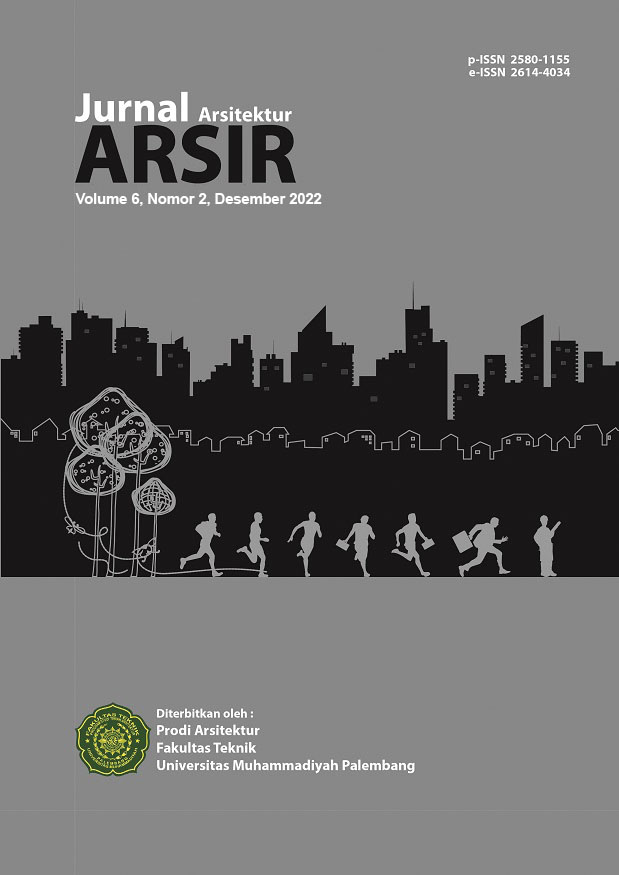 Announcements
No announcements have been published.
Vol 6, No 1 (2022): Arsir
Table of Contents
Articles
| | | |
| --- | --- | --- |
| | Zairin Zain, Ariq Aqsa, Rizky Sunandi | 1-14 |
| | | |
| --- | --- | --- |
| | Denny Iwan Setyawan, Jonny Wongso | 15-25 |
| | | |
| --- | --- | --- |
| | Ramadisu Mafra, Zulfikri Zulfikri, Riduan Riduan | 43-52 |
| | | |
| --- | --- | --- |
| | Erfan M Kamil, Zuber Angkasa, Iskandar Iskandar | 53-68 |
| | | |
| --- | --- | --- |
| | Reny Kartika Sary, Sisca Novia Angrini, Meldo Andi Jaya | 69-77 |