BEARING is a research journal and study in civil engineering that presents research results in the fields of building and structural engineering, transportation, water resources engineering and management, geotechnical engineering, infrastructure management, and environmental engineering.
BEARING was first published in 2014 in the printed version. Since 2018, BEARING has been published both in the printed and online version (e-journal). This journal is managed and published by the Department of Civil Engineering, Engineering Faculty of Universitas Muhammadiyah Palembang. The journal is published twice a year in June and December.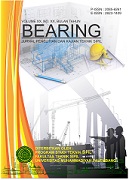 Indexed by :

Announcements
No announcements have been published.
Vol 7, No 4 (2022): BEARING:Jurnal Penelitian dan Kajian Teknik Sipil
Table of Contents