A B C D E F G H I J K L M N O P Q R S T U V W X Y Z All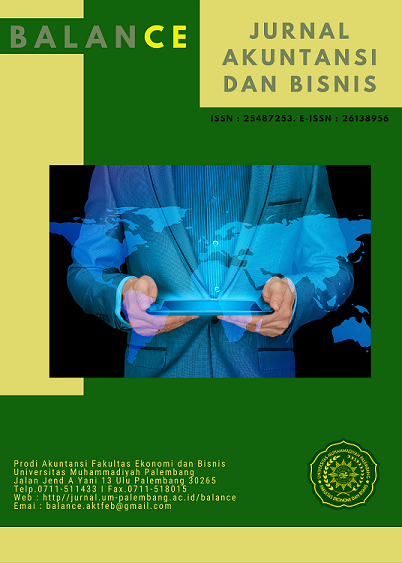 Balance : Jurnal Akuntansi dan Bisnis
Balance, p-ISSN 2548-7253 dan e-ISSN 2613-8956, adalah jurnal peer-review yang diterbitkan oleh Program Studi Akuntansi, Fakultas Ekonomi dan Bisnis Universitas Muhammadiyah Palembang. Ini diterbitkan dua kali setahun (Juni dan November). Balance dimaksudkan sebagai jurnal untuk menerbitkan artikel yang melaporkan hasil penelitian tentang akuntansi dan keuangan. Balance bertujuan untuk mempublikasikan artikel di bidang akuntansi keuangan, Akuntansi dan keuangan yang memberikan kontribusi signifikan terhadap pengembangan praktik akuntansi dan profesi akuntansi di Indonesia dan di dunia. Balance menerima naskah penelitian kuantitatif atau kualitatif, yang ditulis dalam Bahasa Indonesia atau Bahasa Inggris.
Balance menerima naskah dalam berbagai topik tetapi tidak terbatas pada bidang Akuntansi Keuangan, Akuntansi Manajemen, Akuntansi Sektor Publik, Akuntansi Syariah, Perpajakan, Audit, Sistem dan Inovasi Informasi Akuntansi, Etika Bisnis, dan Pasar Modal. Balance diindeks oleh Google Cendekia, Garuda, Terindeks SINTA Peringkat 5
View Journal | Current Issue | Register
Bearing : Jurnal Penelitian dan Kajian Teknik Sipil
BEARING is a research journal and study in civil engineering that presents research results in the fields of building and structural engineering, transportation, water resources engineering and management, geotechnical engineering, infrastructure management, and environmental engineering.
BEARING was first published in 2014 in the printed version. Since 2018, BEARING has been published both in the printed and online version (e-journal). This journal is managed and published by the Department of Civil Engineering, Engineering Faculty of Universitas Muhammadiyah Palembang. The journal is published twice a year in June and December.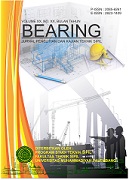 Indexed by :

View Journal | Current Issue | Register

Berkala Teknik
Berkala Teknik diterbitkan dalam versi cetak 2 (dua) kali setahun pada bulan Maret dan September. Redaksi menerima artikel dalam bidang teknik berupa hasil penelitian, studi kepustakaan maupun hasil tulisan ilmiah terkait.