Call for Paper: Desember Vol. 3(1) 2022
Journal of Global Sustainable Agriculture
Kami mengundang Bapak/Ibu untuk mengirimkan artikel riset dan artikel review terbaik berisi gagasan konseptual, hasil penelitian, kajian, dan aplikasi teori ilmu-ilmu bidang pertanian umum diantaranya Agribisnis, Agroteknologi, Perikanan, Kehutanan dan Teknologi Pangan yang akan diterbitkan di Journal of Global Sustainable Agriculture pada bulan Desember tahun 2022. Berikut ketentuan umum yang perlu diketahui:
1. Artikel yang dikirim meliputi hasil penelitian atau hasil telaah di bidang Agribisnis, Agroteknologi, Teknologi Pangan, Perikanan dan Kehutanan.
2. Orisinil, karya sendiri, dan belum pernah dipublikasikan atau tidak sedang dalam proses pengajuan untuk dipublikasikan pada jurnal lain.
3. Artikel sudah dalam format penulisan Journal of Global Sustainable Agriculture yang dapat diakses pada template penulisan.
4. Artikel yang dikirimkan penulis sudah dilengkapi dengan metode sitasi Mendeley atau Zetero.
Sebagai informasi, Jurnal ini diproses untuk pengajuan Akreditasi, juga telah ter-indeks Garuda, Google Scholar, CrossRef, DOI, Dimensions, Indonesia One Search, & ber-ISSN (Elektronik & Cetak), sehingga artikel Bapak/Ibu sangat tepat untuk terbit di jurnal kami untuk PAK & laporan BKD.
Yuk kirim artikel nya bapak & ibu ke website OJS kami di https://jurnal.um-palembang.ac.id/JGSA/login
Untuk info bisaa hubungi kami di WA. 082186009893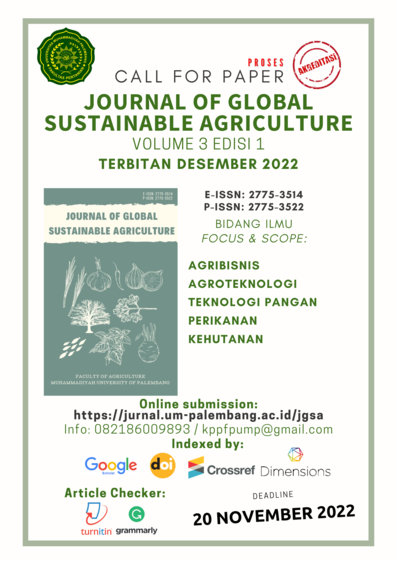 No announcements have been published.