ISSN 2775-3522 (print)
ISSN 2775-3514 (online)
The Journal of Global Sustainable Agriculture is an international journal on research and or a report on the results of general agricultural research. This journal is managed and published by the Faculty of Agriculture, Muhammadiyah University of Palembang. Journal of Global Sustainable Agriculture covers all fields of science regarding general agricultural i.e. Agribusiness (Supply Chain, Production Efficiencies, Feasibility Studies, International Trade, Policy and Strategy Analysis, & Sustainable Development Goals) Agrotechnology (Agronomy, Soil Science, Plant breeding, Plant Protection, & Microbiology), Fisheries (Aquaculture, Physiology, Ichthyology, Biotechnology, Breeding, Aquatic Resources Management, Social Economy of Fisheries, Nutrient, & Biodiversity), Forestry (Conservation, Forest Planning, Forest Policy, Forest Resources, Ecology, Silviculture, Social-Economic, & Forest Management), & Food Processing (Food Technology, Post-Harvest Technology, Agricultural Engineering, & Bio-systems Engineering).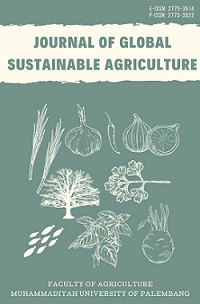 Announcements
Call for Paper: December Vol. 2(1) 2021

Kami mengundang Bapak/Ibu untuk mengirimkan artikel ilmiah terbaik berisi gagasan konseptual, hasil penelitian, kajian dan aplikasi teori ilmu-ilmu bidang pertanian umum diantaranya Agribisnis, Agroteknologi, Perikanan, Kehutanan dan Teknologi Pangan yang akan diterbitkan  di Journal of Global Sustainable Agriculture pada bulan Desember tahun 2021. Berikut ketentuan umum yang perlu diketahui:

Artikel yang dikirim meliputi hasil penelitian atau hasil telaah di bidang Agribisnis, Agroteknologi, Teknologi Pangan, Perikanan dan Kehutanan.
Orisinil, karya sendiri, dan belum pernah dipublikasikan atau tidak sedang dalam proses pengajuan untuk dipublikasikan pada jurnal lain.
Artikel sudah dalam format penulisan Altifani Journal yang dapat diakses pada template penulisan.
Artikel yang dikirimkan penulis sudah dilengkapi dengan metode sitasi Mendeley atau Zetero.
Nara hubung dapat menghubungi ke nomor WA kami di 082186009893 (Nabila).

 

Posted: 2021-08-16
More...
Vol 1, No 2 (2021)
Table of Contents
Articles
| | | |
| --- | --- | --- |
| | Marson Marson, Elva Dwi Harmilia | 40-45 |
| | | |
| --- | --- | --- |
| | Yuli Rosianty, Efendi Agus Waluyo, Rendi Gunawan | 61-66 |
| | | |
| --- | --- | --- |
| | Anna Kusumawati, Hendy Riyanto | 67-71 |
| | | |
| --- | --- | --- |
| | Marson Marson, Taufik Hidayah | 72-76 |
| | | |
| --- | --- | --- |
| | Fitri Yetty Zairani, Burlian Hasani | 77-80 |