English Community Journal is a journal of English Education Journal of Faculty of Teacher Training and Education at Universitas Muhammadiyah Palembang. English Community Journal includes articles of English Education and published in twice a year, march and September. English Community Journal focusses on teachers, lecturers, students, reseacrhers who consentrate in English Education. Writing articles focusses on English Community Journal template.
This journal has been accredited by National Journal Accreditation (ARJUNA) Manage by Ministry of Research, Technology, and Higher Education, Republic Indonesia With fourth Grade (Peringkat 4, SINTA 4)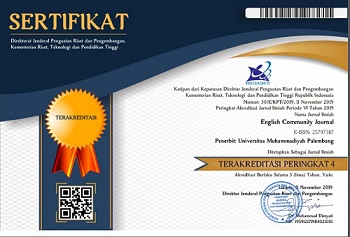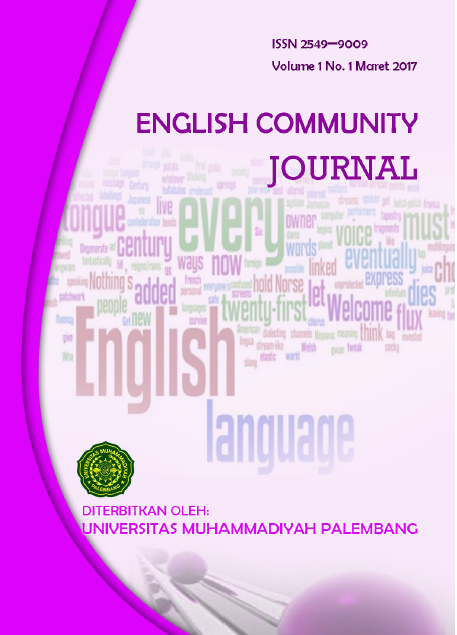 Announcements
No announcements have been published.
Vol 7, No 1 (2023): English Community Journal
Table of Contents
Articles
| | | |
| --- | --- | --- |
| | Tiwik Ramadhanti, Indawan Syahri, Masagus Sulaiman | 1-11 |
| | | |
| --- | --- | --- |
| | Finza Larasati, Tri Rositasari, Dwi Rara Saraswaty | 17-26 |
| | | |
| --- | --- | --- |
| | Sylvia Irene Persulessy, Juvrianto Chrissunday Jakob | 27-35 |
| | | |
| --- | --- | --- |
| | Rika Rika, Sri Yuliani, Erwan Dirgantara, Sherly Marliasari, Darmawan Budiyanto | 36-43 |
| | | |
| --- | --- | --- |
| | Jenny Elvinna Manurung, Heru Setiawan, Rindang Aulia Yesar, Nita Ria | 44-49 |
| | | |
| --- | --- | --- |
| | Yorina An'guna bansa, Lara Kartika Sari, Kurnia Saputri, Dita Adawiyah | 50-64 |