Societa is journal that concern in agribusniess sciences which includes: Marketing of agricultural products, Analyze of Farming Income, Comparison of production and income farming, Agricultural Policy, competitiveness of agricultural products, development of rural area and other agribusiness science.
Societa is the journal that published by Agricultural Faculty of Muhammadiyah  University of Palembang, since 2016. This journal reguraly publish every June and December with registrated number ISSN 2301-4180 (print) and ISSN 2549-8509 (online).
P-ISSN 2301-4180
E-ISSN 2549-8509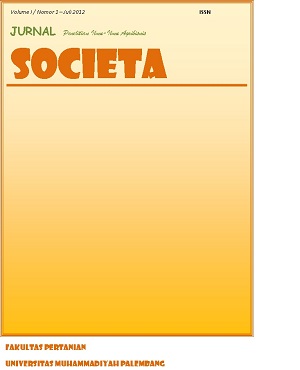 Announcements
No announcements have been published.
Vol 12, No 1 (2023): Jurnal Penelitian Ilmu-Ilmu Agribisnis
Table of Contents
Articles
| | | |
| --- | --- | --- |
| | Atini El Kifaf, Narni Farmayanti, Triana Gita Dewi | 1-9 |
| | | |
| --- | --- | --- |
| | Ade Suryani, Mustopa Marli Batu Bara | 10-19 |
| | | |
| --- | --- | --- |
| | Yogi Erlani, Sisvaberti Afriyatna | 20-25 |
| | | |
| --- | --- | --- |
| | Riki Riyanto, Harniatun Iswarini | 26-34 |
| | | |
| --- | --- | --- |
| | Irvan Andika, Sutarmo Iskandar | 35-41 |
| | | |
| --- | --- | --- |
| | Syukur Oktavianto, Rafeah Abubakar | 42-46 |
| | | |
| --- | --- | --- |
| | Jodhi Febriansyah, Innike Abdillah Fahmi | 47-55 |
| | | |
| --- | --- | --- |
| | Ajeng Retno Rohmawati, Rahidin H. Anang | 56-63 |
| | | |
| --- | --- | --- |
| | Ursula Damayanti, Eka Nopi Aktiva, Gsti Fitriyana | 64-68 |
| | | |
| --- | --- | --- |
| | Venny Ulfa Utari, Puri Pratami Ardina Ningrum | 69-77 |